CLICK HERE to view our online collections.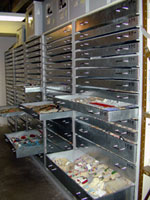 The Museum collection—over 50,000 artifacts—contains art and three-dimensional artifacts relating to all aspects of Montana history and culture. Our Native American collection (6,000 pieces) contains artifacts from each of the many tribes who have called Montana home. The collection is especially strong in early reservation-era Blackfeet, Sioux, and Salish materials. The Society's archaeological collection (2,500 pieces) is relatively small, but contains representative artifacts from many eras of human habitation in Montana. The Society is also the official repository for archaeological materials found on State-owned lands.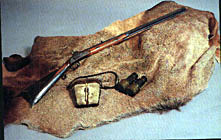 Other artifact strengths include: costumes and textiles (3,100 pieces - e.g., ceremonial costumes worn by Odd Fellows and Rebekahs at the turn of the century, Governor and Mrs. Sam Ford's inaugural outfits of 1941, garments worn by Chinese immigrants in 1890s Butte); transportation artifacts (800 pieces, e.g., a 1910 ore wagon used at the Garnet mines and a wheel from the 1900 Missouri River steamboat "Rose"), paper and ephemera (4,000 pieces, e.g., a Class of 1900 Helena High School dance card and a 1912 calendar depicting an early Charles M. Russell watercolor); firearms (1,000 pieces, e.g. Jim Bridger's c.1870 Hawken rifle and Sitting Bull's 1866 Henry repeating rifle); and agriculture, cattle, and mining industry objects (3,000 pieces, e.g., mid-20th century ranch items, 700 veterinary-medicine artifacts, and 1860s assaying equipment).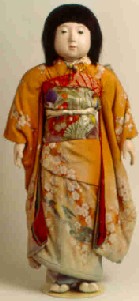 The collection also includes decorative arts and furnishings (3,000 pieces) many of which are housed in room settings at the Original Governor's Mansion, a three-story Queen Anne-Style mansion in Helena operated as an historic house museum. The best known works in our art collection (8,000 pieces) are by Montana's "Cowboy Artist" Charles M. Russell. This collection (numbering over 200 pieces—24 major oils, 33 major watercolors, 40 pen and inks, 15 original models, 60 bronzes, and 34 illustrated letters) is one of the most significant collections of Russell art anywhere. Another major art collection represents the life work of sculptor Bob Scriver (3,000 pieces). Bronzes of wildlife, frontier figures, and native people are the major themes of Scriver's art—influenced by the history and natural beauty of his Browning, Montana, home. The time period most completely represented in the collection is 1875-1925, but although continue to collect evidence of Montana's 20th century material culture.