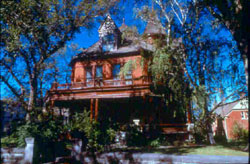 Original Governor's Mansion (Helena, Montana)
Montana's Original Governor's Mansion (OGM) is an historic house museum located at 304 North Ewing Street near downtown Helena. Entrepreneur William Chessman built the Mansion as a private residence in 1888. The three-story Queen Anne-style structure was acquired by the State of Montana in 1913 to serve as its first official governor's residence. The home then housed a succession of nine First Families until a new governor's residence was built in 1959. The Original Governor's Mansion Restoration Society began to refurbish the building in 1969 with the support of the City of Helena. Since 1981 the Montana Historical Society has administered the Mansion, and today, the building is carefully restored to its authentic appearance during the mansion's first years as home to Montana's governors. Take a virtual tour. Watch a guided tour of the Original Governor's Mansion highlighting Montana during World War I.
---
Moss Mansion (Billings, Montana)
Step into history with a one-hour guided tour of the Moss Mansion Historic House Museum. The tour captures early turn-of-the-century life as the Preston Boyd Moss family lived it. Visitors see original draperies, fixtures, furniture, Persian carpets and artifacts displayed in the 1903 red sandstone structure. The home was designed by New York architect Henry Janeway Hardenbergh, who was responsible for the original Waldorf Astoria, Willard Hotel, Copley Hotel, and Plaza Hotels. Moss Mansion is listed on the National Register of Historic Places.
Please visit the Moss Mansion website.
The Moss Mansion is owned by the Montana Historical Society and operated by the Billings Preservation Society, Inc.